SCHUYLKILL SHOWCASE!
We are taking 3 PRIME indoor midway 10×10 spaces and "flipping" them every three days! These spaces are aimed at crafters, artisans and artist from our community who may not be able to join us for all six days for any reason. Book a space for Day 1 through 3 for just $125.00 OR Day 4 through 6 for just $125.00. Indicate "Schuylkill Showcase" under "Space Requested".
For more information, please download the Vendor Application here:
2019 Vendor Application – Schuylkill County Fair
---
"In accordance with Pennsylvania Department of Agriculture Fair Fund guidelines, the sale of Confederate flags and Confederate flag merchandise is prohibited at the Schuylkill County Fair."
---
Schuylkill County Grown Producers
The following retailers offer locally grown produce:
Schroeder Family Farms
555 Tuscarora Mountain Drive
Barnesville

Anderson Farm
1113 Long Run Road
Friedensburg

Schwalm Farms
103 Valley Road
Hegins

Mountain Apple Farm
8 Stiely Road
Klingerstown

Heim's Farm Market
1705 Chestnut Street (Route 443)
New Ringgold

Miller's Produce
1986 West Penn Pike
New Ringgold

Stein's Farm
1117 Chestnut Road (Route 443)
Orwigsburg

The Veggie Stand
187 Frisbee Road
Orwigsburg

Jersey Acres Farms
1615 Panther Valley Road
Pine Grove

Schneck's Meats
173 Hickory Road
Pine Grove

The County Line Fruit Stand
1099 Suedberg Road
Pine Grove

Kenny Stehr and Sons
30 Kettle Road
Pitman

Glenworth Farm and Wellness Center
57 Glenworth Road
Pottsville

B&R Farms
129 Strawberry Lane
Ringtown

Rumbel's Roadside Stand and Cider House
460 Aristes Road
Ringtown

Little Peace Farm
257 Moon Hill Road
Schuylkill Haven

Blyler Fruit Farm
7922 Route 25
Spring Glen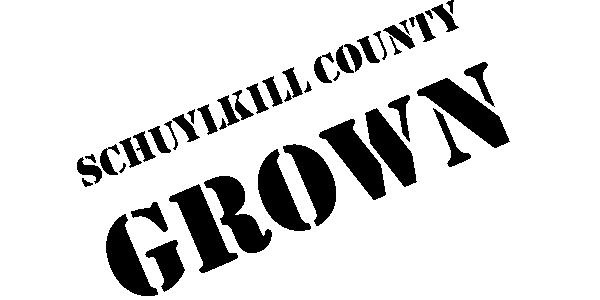 Koch's Turkey Farm
416 Valley Road
Tamaqua
Leiby's Farm Market
1026 Catawissa Road
Tamaqua
Zukovich's Farm Market
432 Fairview Street
Tamaqua
Willam's Valley Farms, LLC
200 E. Wiconisco Avenue
Tower City
Harner's Produce Market
26 Garden Lane
Valley View
Guer's Dairy (sold in retail stores)
1268 Tumbling Run Road
Tamaqua
Heisler's Egg Farm (Sold in retail stores)
757 Valley Road
Tamaqua
Hope Hill Lavender Farm
2375 Panther Valley Road
Pottsville
Bowman's Farm Market Truck
Can be found at town farmer's markets, including Pottsville
Bixler's Country Meats
Hegins
Wehry Farms, TT&A Quality Meats
Klingerstown (just outside of the County, but work with county livestock producers)
Mease Meats
Pine Grove
Huntsinger Farms (can be found in retail stores)
211 East Mountain Road
Hegins
Masser's Produce
414 Main Road
Pitman
Sterman Masser, Inc. (can be found in retail stores)
2 Fearnot Road, PO Box 210
Sacramento
Please note that this is not a complete list of all producers/retailers/vending that have Schuylkill County Grown products available. Locations not on this list are eligible as long as the product is from the County. Some locations, like the butcher shops and retail stores, may sell non-County products too, so if you want to be sure of what you are buying, make sure to ask them.