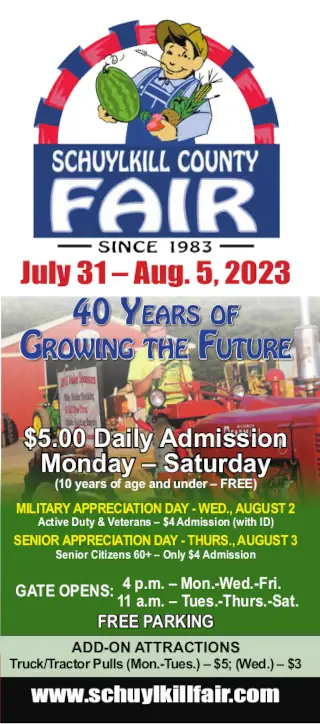 You can preview what's to come at the 2023 Schuylkill County Fair by picking up one of colorful brochures places in business, at events, and other establishments around the county. This brochure and entertainment poster are also available to download from this page below.
The 11 by 17 tri-fold brochure is packed full of Fair information. It gives dates, times and directions to where events are being held on the grounds. The brochure folds out into a poster of the major entertainment going on the stages found on the grounds as well as on the track. Sponsors of the 2023 Schuylkill County Fair are proudly displayed within. Highlighted within the brochure are the Truck Pulls week long entertainment and our nightly entertainment for each day.
Contact information for the Fair as well as direction to the fairgrounds are found in the brochure. Even next Year's Schuylkill County Fair dates are included so you can save the dates for the 2024 Schuylkill County Fair.
View and print the 2023 Fair Schedule Brochure