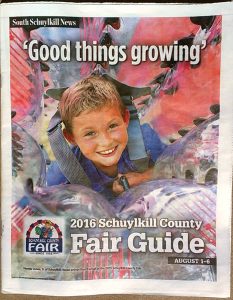 Just announced, the 2016 Schuylkill County Fair Tabloid received "First Place – Special Event/Vendor Support Section" in the Pennsylvania Newspaper Association's 2016 PNA Foundation Display Advertising Tearsheet Contest.
The award winning tabloid affectionately referred to as the "Fair Guide" is created and compiled by Kim Morgan, vice-president/secretary of FARM/Schuylkill County Fair. The official fair photographer, Ray Silcox of ShowMeYourPix.com provides a number of photos from the previous year's fair used in the tabloid.
Additional photos, sponsorship material used for ads, and press releases written by Kim Morgan are compiled and submitted by her to the South Schuylkill News whose parent newspaper is the Reading Eagle. Then under the direction of Teri Paulin, editor of the South Schuylkill News, the tabloid is put together and published by the Reading Eagle. The Reading Eagle publishes over 10,000 for the Schuylkill County Fair to distribute and then circulates the tabloid in their newspapers prior to the opening of the Fair. Teri Paulin is assisted by writer Shea Singley, photographer Jonathan B. Proby, and Digital Sales Manager Denice L. Schaeffer who contribute to the tabloid. Both the Schuylkill County Fair and the South Schuylkill News proudly accept the award and are pleased that others recognize the outstanding effort that goes into a publication like this.