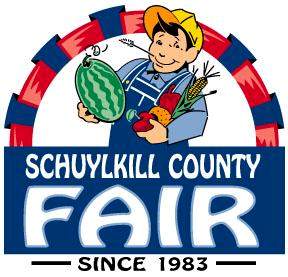 You are invited to spend a day at the Schuylkill County Fair. Where we are celebrating 36 years of Fairs Featuring Agriculture. Schuylkill Country Fair has been operating for 36 years. During that time some well establish contests have developed and some new ones are being introduced for the first time this year.
What would the fair be without its ethnic diversity? A Boilo Competition exemplifies our regional culture. A friendly game of Quiz Bowl is making a return for the fun that is always being had at the fair. Speaking of fun, don't miss out on the Adult Milk (mustache), Chugging and Pie (in your face) Eating contests.
Speaking of contests don't miss out on the Celebrity Tractor Pull on the Track. See who can push the petal to the metal the hardest as that powerful tractor make its way down the track pulling the weighted sled. Celebrity Pulls start at 6:30, followed by Farm Stock Pulls at 8 PM.
New this year will be some dinner entertainment at 5 PM with some Rhythm and Brews. Enjoy the contemporary sounds of this trio over the dinner hour. Savor the sounds and flavor at the same time as Rhythm and Brews take the M & T Stage. Rhythm and Brews are sponsored by Murry Maintenance, LLC and J. Smith Electric, LLC.
Ridgeline will be found on the M & T Stage at both 7 and 9 pm. Ridgeline is sponsored by C T Electric, LLC.
Speaking of sponsors Wednesday is sponsored by the Schuylkill County Commissioners who proudly support the Schuylkill County Fair as a as a vital part of Ag-tourism to the area. So when you see a Commissioner at the Fair or else wear say THANKS.
Experience more of the county scenery back at the Weston Pavilion when visiting with the Kyle Schutt, Schuylkill Conservation District Insect Management Technician @ 6:30 PM on "The Latest on West Nile/Mosquitoes & Spotted Lantern Fly".
Visual Opportunities Wed. July 31, 2019
Beef Show
Dairy Beef Show
Fair Opens to the Public at 4PM
Quiz Bowl
Tractor Parade
Open Horse Show
Adult Milk Chugging
Adult Pie Eating
Rhythm and Brews – Sponsored by Murry Maintenance, LLC and J. Smith Electric, LLC
Ridgeline – Sponsored by ET Electric, LLC
Celebrity Tractor Pull
Farm Stock Pulls
Boilo Competition
Other Notable Visual Opportunities:
Close Encounters of the Exotic Kind
Kyle Shutt – West Nile and Spotted Lantern Fly
Kids Area Activities
Schuylkill Talent Showcase – Dennis Tempest
Porcupine Pat, Naturalist
Farming for A Day