NOTICE: Original post has been edited to decrease price of pass to $20.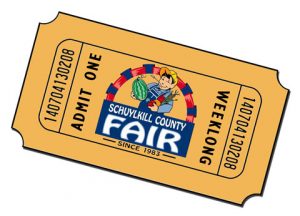 Back by popular demand, the week long pass for the 2019 Schuylkill County Fair. Get your week long pass for the 2019 Schuylkill County Fair, July 29 – August 3. The week long pass cost only $25.00 Passes can be obtained by calling Dee at 570.449.2641 or emailing boris393@ Comcast.net. Passes will be available for purchase through July 27. Please make check or money order out to FARM/Schuylkill County Fair. NO Cash. Mail to 93 Commanche Dr., Auburn, PA 17922. Passes may be picked up at the Main Fairgrounds Gate on Monday, July 29 of the Fair.
The Schuylkill County Fair is still the best week long actively engaging entertainment deal around. The Schuylkill County Fair was awarded the 2019 Readers Choice Award for Best Entertainment in Schuylkill County.  The Fair is keeping their admission at $5.00 with 10 years of age and under free.  Free parking.  Admittance for the Truck pulls is still only $5.00.  Gates open at 4 PM Monday, Wednesday, and Friday.  Tuesday, Thursday and Saturday the Fair opens at 11 AM.  Tuesday is Kids Day, Thursday is Senior Appreciation Day, and Saturday is Family Day.  On Senior Appreciation Day Seniors 65 and over get in for free from 11 to 4 PM.  After 4 PM Seniors pay only $4.00.  STS will be operating routes throughout the county for Senior Appreciation Day.