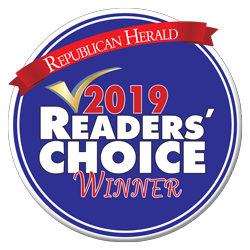 Schuylkill County Fair has been chosen by you the readers as being the Best Event in Schuylkill County. In its 36 year of bringing Agricultural entertainment or Ag-tainment to the area, the Schuylkill County Fair is pleased and excited to accept this award.
The Schuylkill County Fair would like to sincerely thank everyone who participated in choosing the Fair as the Best Event in the area.  Special thanks goes out to all the reader of the Republican-Herald for voting the Fair number one. 
A note that not only is Schuylkill County Fair a Reader's Choice, but also Tuesday's night entertainment on the M & T Stage Sapphire has been chosen also as well as winner of the 80's Tribute band.  Come out and celebrate Sapphire's win with two performance on Tuesday, July 30 at 7 and again at 9 PM.  Schuylkill County Fair is supported by a number of other Reader Choice winners.  Some of those other winners are sponsors of the 2019 Schuylkill County Fair.  Those sponsors that help bring this Best Event to the County include: CACL, Schaeffer's Harley-Davidson, Boyer's Food Markets, Bob Weaver Auto, Hess Catering, Bill's Produce, Sheets, Mystic Screen Printing & Embroidery and R&J Transportation.  Without their sponsorship and others who support the Fair, the Fair would not be the event that it is.