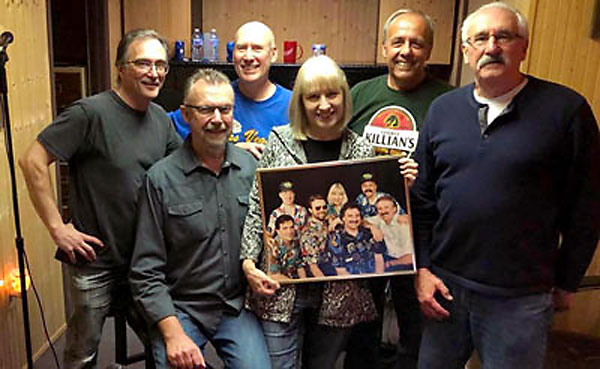 The Mudflaps – Reunion. Picking up where they left off & reuniting as one of the all-time best 'oldies' bands in Pennsylvania. Reminisce & Dance!  They will be appearing on the M & T stage on Thursday, August 1 at 7 and 9 PM.  Check out the Mudflaps reunion tour at the Schuylkill County Fair, July 29 through August 3.  The Mudflaps are Northeaster Pennsylvania's premier Oldies show and dance band. Entertaining audiences of all ages with authentic vocal renditions.   They are appearing regularly throughout PA, New Jersey, Maryland and Delaware Virginia and West Virginia
Sam Alonge is the leader of the band, with vocals and guitar. Nick DiFluri accompanies Sam on bass guitar and with vocals. Brightening up the stage is Susan DiFluri with vocals and percussion. Ed Staloski can be found keeping the beat with drums and percussion. Ed Tobias will be tickling the ivories of the keyboards. Dave Schultz and Pete Souders can be found on horns, woodwinds, percussion.
Each one of the band has been influenced in varying ways by very different eras and tastes of music… Classic R & R, Rhytm & Blues, Jazz, '60's Folk, Mo-Town, '70s rock, Blues, old Country… and each member throughout the years of the band has brought their style to the whole of the band. Eclectic Oldies. See and hear the Mudflaps Reunion on Thursday, August 1 at 7 and PM at the Schuylkill County Fairgrounds Where Fairs Feature Agriculture.