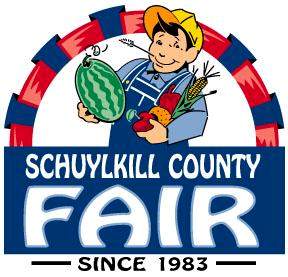 You are invited to experience the 2019 Schuylkill County Fair "where Fairs Feature Agriculture."  View all the exhibits while they are fresh and new.  As the Fair officially opens to the public at 4 PM.   Find out who has won the coveted PA Preferred Chocolate Cake, Blue Ribbon Apple Pie, and the Incredible Angel Food Cake.  You may even be able to taste one of these creations as they are sold at the FARM Food Stand.
The best of show quilt will be displayed in full view in the arts and crafts building.  While you are in the arts and crafts building view all the photographs that are on display by various amateur photographers.  Look for the wines and beer done by local brew masters.
Take a moment to smell the roses or other flowers in the horticulture building while they are fresh and vibrant.  Take a look at the amateur gardener's floral designs in all their glory.   Find out who won the Market Basket of vegetables or fruit.  In the Ag building you will find all the best of show in vegetables, grains, fruit and eggs.  Also, take a moment to view the PA Preferred Display of all the PA Preferred products produced in Schuylkill County.  You would be surprised at the massive variety of agricultural products produced in Schuylkill County.  
Some of the happenings at this year's SCF include our amusement ride company – Goodtimes Amusement out of Hellertown, PA with twenty rides and 15 game and food trailers with three band new rides being brought to the Fair.  Goodtimes Amusement Co. is returning for its fifth appearance at the Schuylkill County Fair. 
New contest for Monday night at the Fair and it is "Show Us Your Dutch." That is what is asked of the local "Dutch" population in the area to bring traditional Dutch fair. Asking entrants to bring 1 pan of prepared ready to eat scrapple or 1 ring of sausage. Maybe your Dutch side tends to be sweeter. Looking for those sticky bun or shoefly pie baked sweets. Bring entrants to the fair by 5:30 to the PA Preferred Building and show us your Dutch heritage.
New entertainment for the M & T Stage on Monday at 7 and 9 PM will be New Individuals. New Individuals will entertain the audience with Oldies and Classic Rock. New Individuals are sponsored by Boyer's Food Markets.
Monday night local diesel and gas truck pullers may compete for the bragging rights of being Schuylkill County Fair truck puller for 2019.   This night is for both diesel and gas powered trucks which is different from the past track event.  An invitation to all to bring their trucks and test out its power on the tract at 7 PM.   Street Semi's will also pull this evening.  The event at the track is sponsored by J.C. Hill Tree Farm.  This and a whole lot more food, fun, competitions, demonstrations, activities, shows and entertainment may be had at the Schuylkill County Fair, July 29 through August 3, 2019.
Visual Opportunities Mon. July 29, 2019:
Rabbit Show
Ribbon cutting Ceremony in the Richard Kreager Ag Arena
Hog Show
Queen, Princess and Little Miss Contest
Fair Officially Opens to Public
Ribbon Cutting on the Kids Corral
Show Us Your Dutch (Pa Preferred) NEW
4-H Horse Show
Tractor Parade
Meet the Horses – Equine Barn
New Individuals (Oldies & Classic rock) Sponsored by Boyer's Food Markets
Local Gas and Diesel Truck Pull w/ Street Semi -Track
Dairy Judging Contest – Show Ring
Royalty Crowning
Other Notable Visual Opportunities:
Kids Area Activities
Schuylkill Talent Showcase – Extreme Fitness
Porcupine Pat, Naturalist
Farming for A Day