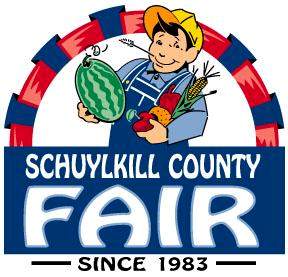 You are invited to enjoy a day in the country. The day starts early with a Dairy Show in the Ag Arena.  To be followed by a tractor parade with CACL who is the day sponsor.
Agricultural activities include a Threshing Demonstration presented by members of the Ag Museum.  The traditional hay bale toss will be held Friday evening.  Steps into the line dancing with DJ Chicken Nuggets as his rock and rolls the country hits meant to keep you stepping out on the dance floor.
As day rolls into evening then let's rock to the country sounds of Aaron Kelly (finality on American Idol) with Schuylkill County Junior Idol opening.  Aaron will take the stage at 7 PM and again at 9 PM.  Schaeffer's Harley-Davidson/ Schaeffer's Motor Sports of Orwigsburg was instrumental in helping bring Aaron Kelly for the evening performance.  Obtain your Premium Seating for an up close personal encounter with Aaron Kelly for only $10.00 for the entire evening performance.  With Premium Seating you don't have to come to the fair extra early and plant your lawn chair and guard your spot. Arrive for the evening's stage performance minutes before the performer goes on and relax in a chair provided by the Fair.
Reserved Premium Seating arrangements may be made with Grace Karrer at (570.527.8240).  A Premium Seat ticket may be purchased for any person age 2 and up.  Checks or Money Orders made payable to FARM/Schuylkill County Fair and mailed to Schuylkill County Fair c/o Grace Karrer 312 N. Second Street, Saint Clair, PA 17970.  Orders will be filled with the best available seat and processed according to the date revived.  Seats are provided by the Fair.  Get your requests in early as there are only 1000 reserved seats available for that evening's performance.
Relax and enjoy your Friday evening at the Schuylkill County Fair where in are celebrating 36 years of Fair's Featuring Agriculture.
Visual Opportunities: Friday, Aug. 2, 2019
Dairy Show
Fair opens to public at 4PM
Tractor Parade
Hay Bale Toss – Kids and Adult
Threshing Demonstration
Spotlight Kidz
DJ Chicken Nugget, Line Dancing
Aaron Kelly (finality on American Idol) Sponsored by Schaeffer's Harley-Davidson & Schaefer's Motor Sports
Other Notable Visual Opportunities:
Close Encounters of the Exotic Kind
Kathy Hampford, aka Queen Bee, PSU Master Gardner 6:30 PM on "Bees and Other Pollinators"
Kids Area Activities
Schuylkill Talent Showcase – Tamara Wapinsky Studio
Porcupine Pat, Naturalist
Farming for A Day