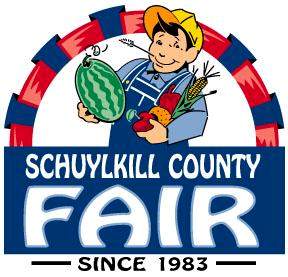 You are invited to drink a cold one at the Schuylkill County Fair on Thursday, Aug 1. That is to drink a tall, cold glass of milk.
The day starts early for the 4-H/FFA dairy exhibitors as many will rise around 5AM to start the process of preparing their dairy animal for exhibit.  Special care will be taken to see that the animals are cleaned and groomed to perfection.  The show will start at 9AM with a showmanship class where 4-H/FFA exhibitors compete for top honors in their ability to display their animal to the judge.  This will be followed by a long day of exhibiting various breeds of cows in classes divided by the age of the cow.  The dairy show is sponsored by Hometown Farmers Market.
Thursday August 1st is dedicated to appreciating our Senior citizens. Who better to do that with then with Diakon Community Services?  This organization is the county leader in meeting the needs of our seniors.  So the Schuylkill County Fair partnered with Daikon to bring to the people of Schuylkill County a day set aside just for them.   
Diakon will bring a whole host of fun activities for all to engage in.  Diakon will be holding a Sr. Community Center Fair at the Fair. Diakon has chosen to locate various activities around the grounds so seniors can stay limber as they move to participate in various activities.  Seniors can also take in more of what is going on at the Fair this way.  Some of the activities that Diakon is preparing for are:
Meal served at noon with reservations required by calling 570-624-3010
Zumba Gold with Eileen Tarconish
Seated Yoga with Prudie Griffin
Nature walks with Jennny Wagner
Presentations on Diakon Services
On Senior Appreciation Day, Thursday, August 1 STS buses will be making a special run to the Fairgrounds. Hop a ride with STS.  AS STS will operate public transportation on a Fixed Route from Union Station in Pottsville to the Fairgrounds as a direct ride.  STS will be operating rides from the terminal leaving the station at 11 AM and at 2 PM with return trips to the terminal station at 2:30 and again at 4PM from the Fairgrounds. Seniors 65 and older will ride free with their STS Senior Citizen ID card.  All other riders on the bus will pay a nominal fee of $1.50 per person paid to the bus driver both going to the fairgrounds and upon return trip to Union Station.  
During your stay on the Fairgrounds water and light refreshments will be available through the course of the day to rehydrate and replenish.  Lots of shade and cool breezes either artificial or natural will also be found on the fairgrounds. Incase Mother Nature gives a shower, there is plenty of cover for seniors with all the buildings and pavilions on the grounds.  While in the buildings seniors can take in any number of exhibits or stroll through the open pavilions and meet up with the 4-H'ers and FFA exhibitors along with their animals. 
Entertainment on the main stage at 1PM and again at 3 PM will be The Rehrig Brothers. They are sponsored by Moyer's Car Care and Fidler Brothers Construction, Inc. No need to bring a chair as the Fair has plenty of chairs and risers to sit upon.
In addition to Diakon, there will be a number of other agencies from the county in attendance to assist seniors.  Some of those agencies are: Lehigh Valley Hospital-Schuylkill, Senior Services of Schuylkill County, AARP, Veterans Affairs, Gift of Life Donor Program, St Clair Lions, Seton Manor, and many more.
So seniors 60 + come spend the day at the Fair. Get to the Fair early to be one of the first 500 through the gate and receive your swag bag. Swag Bag are complements of the PA Lottery, Redners Markets, Lions Club, PA Senator Dave Argall and Gift of Life. Mark your calendar for Senior Appreciation Day Thursday, August 1. Gates open at 11 AM There is no charge to get in to the Fair for Sr. 60+ from 11AM to 4 PM. After 4PM admission for seniors will be just $4.00.
Stroll through the shade of the trees at the Fairgrounds, to the James S. Shadle Nature Center. Enjoy a change of pace during a busy Fair day. Inside the Nature Center view many of the new exhibits featuring plants, animals, geology and natural history of the area. Speak with Porcupine Pat about the latest environmental issues and their impact on the area. The Nature Center will be set up with a number of interactive nature learning stations. These nature center stations are a great way to understand why we need to keep a close watch and provide a helping hand with our environment.
The Ag Museum at the Fair has a number of attractions to interest the whole family. In its 24th year, the Schuylkill County Agricultural Museum's mission is to preserve the history of local agriculture through many diverse means. The museum offers self-guided tours, exhibits operating antique farm machinery, equipment, engines, woodworking tools, a sawmill and household appliances. A chalk board at the Ag Museum welcome area lists the schedule of the day's events. Sure to be listed is a small agricultural equipment operation demonstration with the hit and miss engines. Speaking of demonstrations there are the milling of wood in the saw mill area.
Not to be missed and listed daily on the chalk board is the Bessemer hit-n-miss engine.   A working piece of history, this engine was used on to provide energy to factories in 1800 and early 1900. Inclusive with the engines and tractors are the People Choice Awards where the public may vote on their favorite tractor.
The 35 annual 4-H and FFA Livestock sale will be held on Thursday evening. Quality livestock at reasonable prices will be auctioned by Robert Derfler, Auctioneer of Pine Grove. The sale starts promptly at 5 PM in the Livestock Show Ring of the Schuylkill County Fair. The FARM Scholarship will be handed out to the 2019 candidate and a buyer's award will be recognized. Buyers may register to bid on an animal starting at 3:30 PM and enjoy a complementary light meal until the auction starts. A buyers reception precedes the sale and begins at 4:00.
Livestock for sale are owned and raised by 4-H/FFA members, who have put a lot of time and hard work into growing and training the animals for this event.  The animals selected by the 4-H/FFA members are chosen for their superior genetics and raised on special diets to present an optimum quality animal for the consumer. 
Proceeds for the sale of these animals go back to the 4-H/FFA members to help with cost of purchasing and feeding the animal.  For further information on the purchase of one of these quality animals see attached brochure on the Schuylkill County Fair website at schuylkillfair.com/livestock-sale/.   The 4-H and FFA members invite you to purchase a quality animal for your use at the Schuylkill County Fair 4-H/FFA Livestock Sale.  
On the M & T Stage Mudflaps Reunion. At 7 and 9 PM. Mudflaps are sponsored by PA Lottery. Premium seating is available for this performance. Want to be up close and personal with the Mudflaps? If so, the fair has arrange some accommodations for you. The Fair is offering Premium Seating at this evening's performance. Obtain your Premium Seating for only $10.00 for the entire evening performance. With Premium Seating you don't have to come to the fair extra early and plant your lawn chair and guard your spot. Arrive for the evening's stage performance minutes before the performer goes on and relax in a chair provided by the Fair.
Reserved Premium Seating arrangements may be made with Grace Karrer at (570.527.8240).  A Premium Seat ticket may be purchased for any person age 2 and up.  Checks or Money Orders made payable to FARM/Schuylkill County Fair and mailed to Schuylkill County Fair c/o Grace Karrer 312 N. Second Street, Saint Clair, PA 17970.  Orders will be filled with the best available seat and processed according to the date revived.  Seats are provided by the Fair.  Get your requests in early as there are only 80 reserved seats available for that evening's performance.
All of this and lots more are to be had at the Schuylkill County Fair.  Plenty of food can be found on the midway and don't forget to ride the rides to your heart's or stomach content.  Rides are provided by Goodtime Amusement of Hellertown, PA.  To think you get this for one price at the Schuylkill County Fair.
Visual Opportunities: Thur. Aug 1, 2019
Dairy Show
The Rehrig Brothers at 1 & 3 PM Sponsored by Moyer's Car Care & Fidler Brothers Construction, Inc.
Fair Opens to the Public at 4 PM
4-H/FFA Livestock Sale
Tractor Parade
Mudflaps Reunion – Sponsored by PA Lottery
Ag Museum Members Fun Pull
Other Notable Visual Opportunities:
Close Encounters of the Exotic Kind
"Form Follows Function" by Larry Moyer Master Gardner
Kids Area Activities
Schuylkill Talent Showcase – Tiffany Maley
Porcupine Pat, Naturalist
Farming for A Day