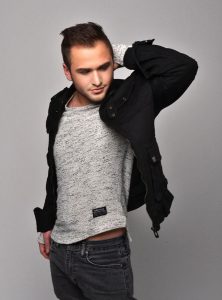 Aaron Kelly to appear for not one, but two performances at the Schuylkill County Fair, July 29 – August 3.   Aaron Kelly was one of the top five finalist of American Idol® in season nine. He was the youngest finalist to ever reach the top five on the American Idol®. Aaron will appear on the M & T Stage on Friday, August 2 at 7 and 9 PM.  Check out how the local country boy is making it big.
A Florida native Aaron Kelly, currently he claims Sonestown, PA as his hometown.  Aaron was not your typical teenager. In fact, at 17 Aaron had already become the youngest contestant to ever reach the top 5 on the popular show, American Idol®. He participated in a national tour, appeared on other national television shows. The Ellen Degeneres Show, the Late Show with David Letterman, and Access Hollywood. Not willing to rest there, his current goal is to write and record a great pop flavored country album.
Aaron is currently signed to national booking agency Buddy Lee Attractions, Aaron is confirming tour dates for 2019. A touring date that will include the Schuylkill County Fair on Friday evening August 2. Fronting his own band named 2nd South and appearing around the country while he writes songs for his upcoming album and readies himself for showcasing for Nashville labels. You'll might be able to catch him during next year's CMA Fest in Nashville.
At 21, he's also a professional performer. American Idol® was far from his first time to perform in public. His love to sing and write music became apparent at the age of 7, so his parents nurtured his desire allowing him to entertain at fairs, festivals and benefits where he opened shows for Emerson Drive, Aaron Tippin, Bill Anderson, Loretta Lynn, David Ball and sang with Martina McBride, Charlie Daniels, Marshall Tucker Band among others. Kelly credits Rascal Flatts, Taylor Swift and Keith Urban to be among his musical influences.
Performing great pop flavored country music is Aaron Kelly's style and you don't want to miss his performance on Friday, August 2 at 7 and 9 PM. On the M & T stage on the Fairgrounds of Schuylkill County.