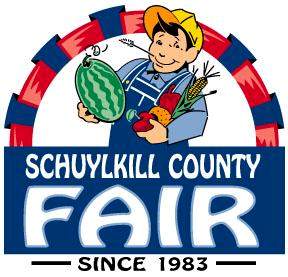 Don't let the Blue Mt. 4-H Livestock Club members pull wool over your eyes at the Bear Creek Festival to be held Sunday, June 2 on the Schuylkill County Fairgrounds. During the operating hours of 12 Noon till 4PM, club members will busy helping others attending this free event learn a little more about agriculture.  As this club is all about raising livestock animals, the members will be stepping a little outside their realm to engage attendees in the art of wool spinning.  Participants under the direction of club members will take a roving of wool and a miniature shepherd's hook to spin the wool into a yarn and then two ply it with a friend to form a friendship bracelet.  Participants may then take specially prepared bag of wool for spinning into more bracelets to make and share with other friends.
These is just one of the many activities and demonstrations to be engaged in at the Bear Creek Festival to be held Sunday, June 2 on the Schuylkill County Fairgrounds where this free fun family event is held.  For the Blue Mt. 4-H Livestock Club has many more activities to engage the event participants.  There is the flapping butterflies to remind participants of the pollinator garden placed on the grounds by the club three years ago.  Participants can make a number of agricultural based items like moo goo, clucking chickens and earth cycles bracelets.  Come by the tables where the Blue Mt. 4-H Club in the indoor midway for all these fun activities.
The Bear Creek Festival is a family-oriented event offers visitors fun activities related to all things environmental, outdoors, natural, and agricultural in Schuylkill County.  This year's festival features performances by Van Wagner at 1:00 p.m. and Jay Smar at 2:15 p.m.  Van Wagner will be doing a hard coal heritage program and music about the local culture, history, and environment.  Jay Smar combines music, dancing, and history for a fun and entertaining show.  Those who love the outdoors can participate in Schuylkill County Trout Unlimited's annual fishing derby.  Craft lovers can build their own bluebird house with Home Depot and paint their own flower pot to take home.  Anyone interested in live action can enjoy an animal talk with Red Creek Wildlife Center, antique tractor pulls, and loading and firing demonstrations with Blue Ridge Rifles.