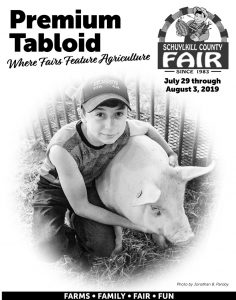 Do you wish to show off a prized animal or crop? Get involved with the Schuylkill County Fair and enter your exhibit!
Our premium book provides all of the information you need for a successful and enjoyable experience. Inside our Fair Premium Book you will find all the information and forms needed to enter your exhibits.
New for 2019, the Premium Book is not being mailed automatically. If you have exhibited with us previously, you will receive a post card with this information in the US Mail soon.
The fair made this move in support of our desire to help reduce our environmental footprint by limiting the amount of paper we use.
A limited number of books were printed and can be mailed upon request for those who do not have access to a computer.
Download your copy of our premium book from the following link:
https://www.schuylkillfair.com/exhibits/