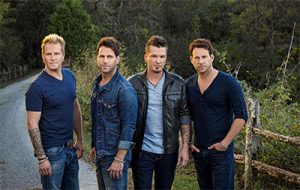 What:         The media is invited to enjoy a day in the country. The day starts early with a Dairy Show in the Ag Arena.  To be followed by a tractor parade with the theme of Harley Hog out of respect of Schaeffer's Harley Davidson/ Schaeffer's Motor Sports who is the day sponsor.  This is to be followed by a Livestock Showman Contest where only eligible youth exhibitors via for the covet prize of master showman by exhibiting to the best of their ability various species of livestock.  The eligible youth are broken into age categories so that they compete for this top prize against youth of similar age. Agricultural activities include a Threshing Demonstration.   The traditional hay bale toss will be held Friday evening.  Steps into the line dancing with DJ Chicken Nuggets as his rock and rolls the country hits meant to keep you stepping out on the dance floor.  As day rolls into evening then let's rock out to the country sounds of Parmalee (Nashville Recording Artist) with local country performer Jesse Wade pre-show.   Schaeffer's Harley-Davidson/ Schaeffer's Motor Sports of Orwigsburg was instrumental in helping bring Parmalee for the evening performance.  Obtain your Premium Seating for an up close personal encounter with Parmalee for only $10.00 for the entire evening performance.  With Premium Seating you don't have to come to the fair extra early and plant your lawn chair and guard your spot. Arrive for the evening's stage performance minutes before the performer goes on and relax in a chair provided by the Fair.
Reserved Premium Seating arrangements may be made with Grace Karrer at (570.527.8240).  A Premium Seat ticket may be purchased for any person age 2 and up.  Checks or Money Orders made payable to FARM/Schuylkill County Fair and mailed to Schuylkill County Fair c/o Grace Karrer 312 N. Second Street, Saint Clair, PA 17970.  Orders will be filled with the best available seat and processed according to the date revived.  Seats are provided by the Fair.  Get your requests in early as there are only 80 reserved seats available for that evening's performance.
Relax and enjoy your Friday evening at the Schuylkill County Fair where in our country scene make for Blue Ribbon Dreams.
Visual Opportunities:  Friday, Aug. 4, 2017
Dairy Show
Fair opens to public at 4PM
Lions Club of America KidsSight USA – Vision screening
Elks Drug Awareness Trailer – Elks National Drug Awareness Program
Tractor Parade
Master Livestock Showman
Hay Bale Toss
Threshing Demonstration
DJ Chicken Nugget, Line Dancing
We have good things growing – Leave your hand print and see it grow from year to year.
Back on the Back Roads –Destination America Channel filming the uniqueness of the Schuylkill  County Fair
Jesse Wade (Country Music)
Parmalee (Nashville Recording Artist) Sponsored by Schaeffer's Harley-Davidson
Other Notable Visual Opportunities:
Muttville Comix
Trout Unlimited
Peggy Hentz – Red Creek Wildlife Rehabilitation
Kids Area Activities operated by The Arts Barn Education Center
Schuylkill Talent Showcase – Tamara Wapinsky Studio
Todd Gladfelder, chain saw artist
Porcupine Pat, Naturalist
Farming for A Day
When:                    Friday, August 4, 2017
Where:                Schuylkill County Fair Grounds
More Info@:      www.schuylkillfair.com
Schuylkill County Fair runs July 31 through August 5 where "where our Country Scene makes Blue Ribbon Dreams come true."  The Fair has been making Blue Ribbon Dream come true for 34 years.  For more information about the Fair visit the fair web site at www.schuylkillfair.com or follow us on twitter and like us on Facebook.