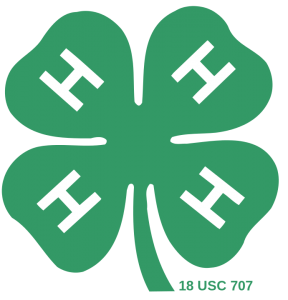 The Blue Mountain 4-H Livestock will be holding an interactive challenge for all to partake on Tuesday, August 1 at the Schuylkill County Fair.  Under the south overhang of the main exhibit hall near the Kids Area is where the club will set up a healthy soil challenge.  The challenge will start approximately 1 PM.  Participants will learn why healthy soil is essential for sustainable future and how to reduce their carbon footprint in relation to the soil.  Throughout their interactive display the participants will learn the five components of soil and how the farming community participates in practices that lesson the release of the carbon found in the soil.  As participants move form station to station they are given a food stuff that simulates the five components of soil.  With each component of food participants learn how the farming community through their practices keep the soil healthy.   In the end participants have knowledge on how to reduce their own carbon footprint when it comes to our soil and how to keep the soil healthy for future generations as well as walking away with a tasty treat?
The 40 plus 4-H'ers of the Blue Mountain 4-H Livestock Club are under the creative and talented directions of the Jill Felty and Kim Morgan as their leaders.  This program evolved from when these two leaders sent one of their active 4-H'er Stefani Strouse daughter of Steve and Staci Strouse of Auburn to attend a Youth Summit on Agri-Science.  At a summit in Washington D.C. at the National 4-H Headquarters.
At the National Youth Summit on Agri-Science high school students develop the skills and knowledge needed for the challenges facing agriculture, food security and sustainability. National 4‑H Council and National 4‑H Conference Center partnered with agricultural scientists, researchers, leaders, politicians, and advocates to host the National Youth Summit on Agri-Science. This Summit emphasized hands-on educational experiences led by experts in the agricultural community. The summit was part of the national STEM initiative.
Topics of exploration included Agriculture Literacy, Agriculture Issues, and Careers in Agriculture leading to a community action projects to facilitate Agriculture back in the community's from which the 4-H'ers came.   This is one of Stef Strouse community action project to fulfill the requirements of going to Washington for the summit.
Come join the Blue Mountain 4-H Livestock Club in this demonstration on how to keep our soil healthy as well be rewarded with a tasty treat on Tuesday, August 1 in the Kids Area of the Schuylkill County Fair.
For more information about the Schuylkill County Fair visit the fair's web site at www.schuylkillfair.com.   Schuylkill County Fair is where the country scene make blue ribbon dreams come true.