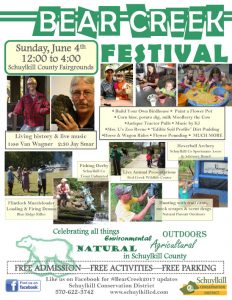 16th Annual Bear Creek Festival features live music and free activities
The Schuylkill Conservation District's 16th Annual Bear Creek Festival will take place on Sunday, June 4, 2017, at the Schuylkill County Fairgrounds in Summit Station from 12:00 to 4:00 p.m.  This family-oriented event offers visitors free and fun activities related to all things environmental, outdoors, natural, and agricultural in Schuylkill County.
The Bear Creek Festival offers a multitude of free activities for all ages.  This year features performances by Van Wagner at 1pm and Jay Smar at 2:30pm.  Van Wagner will be doing a hard coal heritage program and music about the local culture, history, and environment.  Jay Smar combines music, dancing, and history for a fun and entertaining show.
Those that love the outdoors can participate in Schuylkill County Trout Unlimited's annual fishing derby or shoot Hover Ball Archery with Pine Grove Area Archery Club. Craft lovers can build their own bluebird house with Home Depot and paint their own flower pot to take home.  Anyone interested in live action can enjoy an animal talk with Red Creek Wildlife Center, antique tractor pulls, loading and firing demonstrations with Blue Ridge Rifles, and hunting presentations by Natural Pursuit Outdoors.
To learn about all of the free and fun activities being offered, follow "Schuylkill Conservation District" on Facebook.
Established in 1955 by Dr. James S. Shadle, the Schuylkill Conservation District is dedicated to protect, enhance, restore, and promote the responsible use of the county's natural resources for future generations. The District has evolved from an emphasis on soil conservation to one of all natural resource conservation efforts including erosion and sediment control, watershed protection, environmental education, farmland preservation and farm conservation planning.
For more information, please contact Jenna St. Clair at Schuylkill Conservation District, 570-622-3742 ext. 3335 or jstclair@co.schuylkill.pa.us.