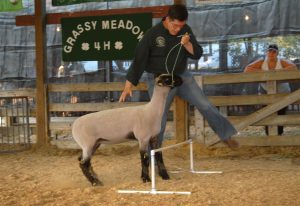 Well known celebrities from various professions from all over the county have accepted the challenge of participating in the 2nd annual Celebrity Obstacle Contest.  The contest, sure to get a lot of media coverage, will be held on Tuesday, August 2 at 6:30PM in the Agricultural Arena during the 2016 Schuylkill County Fair. The celebrities, without dropping any names, come from the news media, political arena and agricultural industry.  Although there are some with agricultural backgrounds, it can be safely said that none of them have worked in the livestock end of the agriculture industry.  For that reason this will be a challenge.
The celebrities will have to, to the best of their ability, take a livestock animal through a series of obstacles with dignity, grace and finesse.  Of course the celebrities will be coached by 4-H and FFA livestock exhibitors as they will also be up for the challenge of the obstacles laid out for them in the course.  4-H and FFA is all about learning by doing and the Celebrities will have to learn from the youth exhibitors as they do the course.   The celebrities are up for the challenge and it is sure to be filled with pure Ag-citement.  So you don't want to miss it on Tuesday, evening, August 2 at the Schuylkill County Fair in the Ag Arena starting promptly at 6:30PM.
Schuylkill County Fair runs August 1 – 6 where "We have good things growing."  33 years and growing better with each year.  For more information about the Fair visit the fair web site at www.schuylkillfair.com or follow us on twitter and like us on Facebook.