The Schuylkill County Fair announces their 2016 Fair theme as "We Have Good Things Growing."" Help the Fair choose fonts for displaying the theme and a logo for 2016.  Cast your vote here.  Vote as many times as you would like.  The final font and logo will be chosen by you. Mark your choices in box at bottom of this page.
Logo Choices: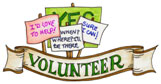 Font Choices:




NOTE: Voting has ended and the results are being tabulated. Stay tuned for the announcement of the winning choices.
* Please click your choice above and then click next. Choose your next selection and click next. Provide your name and email address and then click submit.