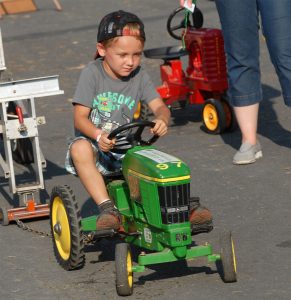 What:              Everyone is invited to a kid again on Tuesday, August 2.  It is a day filled with food, fun activities, educational exercises and entertainment.  The day starts at 11AM when the gates open to the public.  And new this year, everything is open.  A new ride company, Goodtime Amusements out of Hellertown, PA is operating the rides opening at 1PM.
If a fair goer comes a little early on Tuesday, you may see the alpaca show in progress followed by the sheep show.   4-H/FFA members show off their breeding and market animals in front of a seasoned judge, who in their opinion, determine which animals are superior.
Sit around a campfire with Big Owl and learn some Indian Lore.
One clue leads you to another as you unravel the clues in the Find Farmer Fehr Scavenger Hunt.   Help Farmer Fehr find the animals that belong in his barnyard.  Participants stroll the fairgrounds looking for the answers to clues leading them to the animals that Farmer Fehr has in his barnyard.  All the clues and answers are found on the fairgrounds. Answer to the clue is found on the front side of animal puzzle pieces and clue to the next animal that belongs to Farmer Fehr's barnyard is found on the back of the animal puzzle.  So one clue leads you to the next animal and so on until all 10 animals are found.    The eleventh clue leads you to Farmer Fehr himself. When you are all done turn this paper into the Fair office for a prize.
Lunch under the trees of the Dr. James S. Shadle Nature Center and later take in the educational hands on stations in the center. The Nature Center will be set up with a number of interactive nature learning stations.  Make a bracelet learning the cycles of the earth.  Learn about the natural elements thrugh hands on activities that allow us to "Have good things growing."   These are some of the nature activities under the direction Porcupine Pat.
The Kids Tent has many activities going on inside and immediately outside the tent area on Kids Day.  The Kids tent is being operated this year by The Arts Barn Education Center.  Inside the tent you will finding engaging crafts based upon agriculture and nature.  Outside the tent you will find many creative contests just for this day. These are some of the contest going on for the day include:  Musical Hay Bale, Frozen T-shirt, and Cupcake Challenge.   Visit the Kids Tent for times of these contests.   In addition to these contests the kid's area has many more contests in which to participate.   Cool off with an ice cream eating contest.  Fill your hunger with Pie and slurp some Jell-O eating while washing it all down with participation in the Milk Chugging Contest.  Exercise off all that you ate with the pedal tractor pull run by the Agriculture Museum or take a more relaxed attitude and watch for the Tractor Parade put on by the Ag Museum at 4:30 as it wonders throughout the fairgrounds.   All of these contests and more may be found in and around the Kid's tent.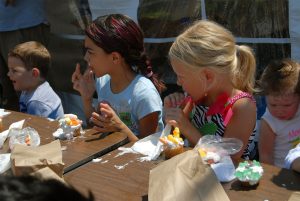 Don't miss the Celebrity/Youth Obstacle Contest.  Well know celebrities from various professions from all over the county have accepted the challenge of being in the first ever Celebrity/Youth Obstacle Contest.  The contest, sure to get a lot of media coverage, will be held at 6PM in the Ag Arena.  The celebrities, without dropping any names, come from the news media, political arena and agricultural industry.  Although there are some with agricultural backgrounds, it can be safely said that none of them have worked in the livestock end of the agriculture industry.  For that reason this will be a challenge.  The celebrities under the direction of youth exhibitors will to the best of their ability work a species of livestock in, around and through various obstacles.  The celebrities are up for the challenge and it is sure to be an Ag-citement event.
Some big kids will be taking the track at 7PM for the Lucas Oil East Coast National Pull.  Featuring 466 Hot Farm tractors, Limited Pro Stock Semi's, and East Coast Diesel – Pro Stock Diesel Four Wheel Drive Trucks.
Top off Kids Day with a sweet treat by sampling the desserts of the Schuylkill County Wine Contest at 5PM and Baking with Brew at 6PM.  Take the treat with you as you go to watch the evening's entertainment on the M&T Bank stage which is the Crazy Hearts.  They will be performing at 7 and 9PM.  Play the whole day at the Schuylkill County Fair and be a Kid again.
Visual Opportunities: Tuesday, Aug. 2, 2016
Alpaca/sheep Show
ID Me, Child Identification Program
Big Owl Indian Lore
Jell-O Eating
Frozen T-shirt Contest
Master Gardner's
DCNR Bureau of Forestry
Cup Cake Challenge
FARMER Takes a SPOUSE Relay
Ice Cream Eating
Musical Hay Bales
Tree Cookies
Tractor Parade
Pie Eating
Milk Chugging
Market Goat Show
Cooking with Schuylkill County Wine Contest
Pedal Tractor Pull
The Wall – Walk in Art Center would like to know what you want to do before you die
We have good things growing – Leave your hand print and see it grow from year to year.
Baking with Brew Contest
Celebrity/Youth Obstacle Contest
Crazy Hearts – M&T Stage
Lucas Oil / East Coast National Pull

466 Hot Farm Tractor
Limited Pro Stock Semi's
East Coast Diesel – Pro stock Diesel FWD Trucks
  Other Notable Visual Opportunities:
Torres Family Circus
Trout Unlimited Demonstrations
U Zoo RevUe"
Kids Area Activities operated by The Arts Barn Education Center
Schuylkill Talent Showcase – Vivian's Dance Studio
Todd Gladfelder, chain saw artist
Porcupine Pat, Naturalist
Farming for A Day
Holly Road Fiber Farm – spinning angora goat fibers
Farmer Fehr Scavenger Hunt
Ag Museum – Open fire Hearth baking by Rebecca Monley
When:                             Tuesday, Aug. 2, 2016
Where:                      Schuylkill County Fair Grounds
More Info@:           www.schuylkillfair.com
Schuylkill County Fair runs August 1 – 6 where "We have good things growing."  33 years and growing better with each year.  For more information about the Fair visit the fair web site at www.schuylkillfair.com or follow us on twitter and like us on Facebook.