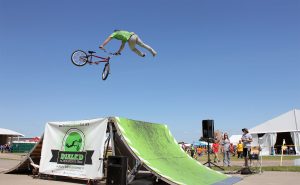 What:              Everyone is invited to drink a cold one at the Schuylkill County Fair on Thursday, Aug 4. That is to drink a tall, cold glass of milk. The day starts early for the 4-H/FFA dairy exhibitors as many will rise around 5AM to start the process of preparing their dairy animal for exhibit.  Special care will be taken to see that the animals are cleaned and groomed to perfection.  The show will start at 9AM with a showmanship class where 4-H/FFA exhibitors compete for top honors in their ability to display their animal to the judge.  This will be followed by a long day of exhibiting various breeds of cows in classes divided by the age of the cow.  The dairy show is sponsored by Hometown Farmers Market.
Stroll through the shade of the trees at the Fairgrounds, to the James S. Shadle Nature Center.  Enjoy a change of pace during a busy Fair day.  Inside the Nature Center view many of the new exhibits featuring plants, animals, geology and natural history of the area.  Speak with Porcupine Pat about the latest environmental issues and their impact on the area.  The Nature Center will be set up with a number of interactive nature learning stations.  Some of the stations include understand the circles of the earth through making an earth bracelet.  The earth provides us with everything we need to survive.  We must take great care of our valuable resources.  Edible Soil activity addresses the elements of soil.  Sun Visor helps you keep the sun out of your eyes and address the value of the sun.  The Air Pressure Station shows the presence of air.  And "Water Cycle Bracelet" stations how the earth re-hydrates itself.  These nature center stations are a great way to understand why we need to keep a close watch and provide a helping hand with our environment.  All part of this year fair where "We have good things growing.
The Ag Museum at the Fair has a number of attractions to interest the whole family.  In its 22th year, the Schuylkill County Agricultural Museum's mission is to preserve the history of local agriculture through many diverse means.  The museum offers self-guided tours, exhibits operating antique farm machinery, equipment, engines, woodworking tools, a sawmill and household appliances.  A chalk board at the Ag Museum welcome area lists the schedule of the day's events.  Sure to be listed is a small agricultural equipment operation demonstration with the hit and miss engines.   Speaking of demonstrations there are the milling of wood in the saw mill area.     Also outside the Ag Museum and listed on the chalk board is Todd Gladfelter using his chain saw to carve wood into intricate designs.  Todd is a blacksmith artist, chainsaw carver, woodworker, cabinetmaker, man of the earth and his work can be seen on line at www.redmountainarts.com.  You can see Todd in action daily at 5:30.
Not to be missed and listed daily on the chalk board is the Bessemer hit-n-miss engine.   A working piece of history, this engine was used on to provide energy to factories in 1800 and early 1900. Inclusive with the engines and tractors are the People Choice Awards where the public may vote on their favorite tractor.
Dialed BMX Stunt Shows combines it all into one ACTION-PACKED show that all ages.   You will be thoroughly impressed and be brought to the edge of your seats for the entire time they are performing on the track.   Watch these action sports athletes flipping, spinning and doing countless other gravity-defying stunts.   These guys will not only thrill you with their athletic abilities, but they also bring a message.  A message that we can all can relate to.  That message is to eat right, stay active, stay drug free, and work hard to achieve goals.  Kids these days need a positive role model to look up to.  Riding a bicycle is something that all kids' can relate to.  Kids seeing the show will see these bike athletes as the "cool" guys, then the educational message will sink in more and make a bigger impact in kids' lives.   Check out Dialed BMX Show at  http://dialedactionsportsteam.com/.
"Farming for A Day" is back and bigger than ever under a larger tent for this year's 2016 Schuylkill County Fair.   The Farming for the Day has added several new activity stations.   In the tent this year there are stations where young and old alike can make a living necklace to wear proudly.  While creating a living necklace, add some more jewelry to your collection by creating pasta jewelry.  Adding to these two stations is the corn grinding station.  Here, using more muscle, children may grind corn into cornmeal and wheat into flour.   View the drone bees in action making honey in the hive and try to pick out the queen bee.    Back again at one of the activity stations children are able to squeeze a pail of sweet creamy milk.  This is from the model milking cow presented by the Dunn Family in memory of Robert "Bobby" Dunn.  Learning by doing at this activity station enable children to learn how much work is involved with milking dairy cows two – three times a day and that chocolate milk does not come from brown cows.   Bobby Dunn, through his "heart of a kid and patience" as an ambassador of agriculture, would have like children to learn that it takes a lot of work to produce that cold refreshing glass of milk.  From the milking station, kids can churn butter from sweet cream donated by Guers Dairy.  Cluck like a chicken when you make a chicken clunker out of a plastic cup and string.  Grow some hair on a head with the soil Sam (chia-pet).   Go buggy when making the flying grasshopper.  Play a game of corn bag toss.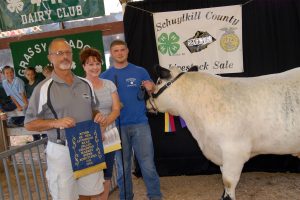 These new activity stations are just part of the many other activity stations found in the Farming for a Day tent.  The successful hands on activity centers returning from last year include, but are not limited to picking apples, and gathering eggs from nesting boxes.  Thank Tri-Valley FFA as children are able to dig up real potatoes growing in a sandbox garden and play in a corn filled or soybean (sand) box.  Card some wool for a winter sweater or grind some wheat to make flour.    Nearby stalks of corn with ears show children how corn is grown.
Stop by the Farming for a Day tent and learn about the life of a farmer.  While you are in the tent, say a big thank you to the Tri-Valley FFA and the Dunn Family for making the Farming for the Day possible.  It is their commitment to Agriculture and a strong work ethic shown by both the Dunn Family and Tri-Valley FFA.  The children are our future and Agriculture is what makes that future strong.
New to the 2016 Schuylkill County Fair is the finding Farmer Fehr Scavenger Hunt.  It all gets started in the Farming for the Day Tent where participants may pick up the first clue that sets them off on an adventure around the fairgrounds looking for the animals that belong in Farmer Fehr's barnyard and finding Farmer Fehr himself.  When all the clues are solved participants may turn the paper work into the office for prizes.
The 32 annual 4-H and FFA Livestock sale will be held on Thursday evening.  Quality livestock at reasonable prices will be auctioned by Robert Derfler, Auctioneer of Pine Grove.  The sale starts promptly at 6 PM in the Livestock Show Ring of the Schuylkill County Fair.  Buyers may register to bid on an animal starting at 4PM and enjoy a complementary light meal until the auction starts.
Livestock for sale are owned and raised by 4-H/FFA members, who have put a lot of time and hard work into growing and training the animals for this event.  The animals selected by the 4-H/FFA members are chosen for their superior genetics and raised on special diets to present an optimum quality animal for the consumer.
Proceeds for the sale of these animals go back to the 4-H/FFA members to help with cost of purchasing and feeding the animal.  For further information on the purchase of one of these quality animals see attached brochure on the Schuylkill County Fair website at www.schuylkillfair.com .   The 4-H and FFA members invite you to purchase a quality animal for your use at the Schuylkill County Fair 4-H/FFA Livestock Sale.
All of this and lots more are to be had at the Schuylkill County Fair.  Plenty of food can be found on the midway and don't forget to ride the rides to your heart's or stomach content.  Rides are provided by Goodtime Amusement of Hellertown, PA.  To think you get this for one price at the Schuylkill County Fair.  For the latest information on the Fair see the web site www.schuylkillfair.com.
Visual Opportunities: Thur. Aug 4, 2016
Dairy Show
4-H/FFA Livestock Sale
Threshing Demonstration
Tractor Parade
We have good things growing – Leave your hand print and see it grow from year to year.
Back on the Back Roads –Destination America Channel filming the uniqueness of the Schuylkill  County Fair
The Wall – Walk in Art Center would like to know what you want to do before you die
Skook Tales – tell your tales of the Schuylkill County Fair for the county documentary
Shawn Klush as Elvis
Dialed BMX Show
Other Notable Visual Opportunities:
Torres Family Circus
Peggy Hentz "Red Creek Wildlife Rehabilitation Center"
Kids Area Activities operated by The Arts Barn Education Center
Trout Unlimited Demonstrations
Schuylkill Talent Showcase – The Minor Notes Chorale
Todd Gladfelder, chain saw artist
Porcupine Pat, Naturalist
Farming for A Day
Schuylkill Herb Society – identifying herbs in a fairy garden
Farmer Fehr Scavenger Hunt
When:                             Thursday, August 4, 2016
Where:                      Schuylkill County Fair Grounds
More Info@:           www.schuylkillfair.com
Schuylkill County Fair runs August 1 – 6 where "We have good things growing."  33 years and growing better with each year.  For more information about the Fair visit the fair web site at www.schuylkillfair.com or follow us on twitter and like us on Facebook.