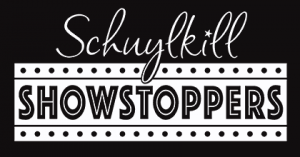 The Schuylkill Showstoppers will return to the M & T stage Monday August 1st for a repeat performance following in last year's path.   Their one time performance will begin promptly at 8 PM.  The 2016 Edition of the Schuylkill Showstoppers will present "We've Got Good Things Growing Here" at the Schuylkill County Fair, Monday, August 1, 2016, following the Schuylkill County Fair Queen Contest. This year the Showstoppers are focusing on the Fair theme "We've Got Good Things Growing Here" and directors Lois Ann Maley, Emily Ehlinger and Sally Bair are crafting a performance that highlights the talent of groups and individuals of a broad range of ages living in the Schuylkill County Fair area. The production will include something for everyone from Broadway to country to farm!
The Schuylkill County ShowStoppers are committed to high levels of singing, dancing and acting performance and work intensively to enhance those skills while creating and presenting high energy, audience pleasing performances. This year's edition of the ShowStoppers includes: Rachel Lenker, Anna Adams, Gabriella, Quinn, Sophie Murray, Emma Bertsch, Ciara Gilbert, Mykaihla Sternick, Allison Campion, Elizabeth Donovan, Olivia Markas, Emma.  These talented group of individuals are sure to receive a standing ovation at the end of their performance.  You won't want to miss their performance, so bring your lawn chair and make yourself comfortable for Monday evening's performance on the main stage for the Schuylkill ShowStoppers.
Schuylkill County Fair runs August 1 – 6 where "We have good things growing."  33 years and growing better with each year.  For more information about the Fair visit the fair web site at www.schuylkillfair.com or follow us on twitter and like us on Facebook.