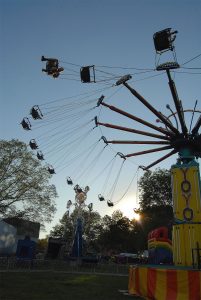 What:              Everyone is invited to come home to the Fair Saturday, August 6th.   Saturday is Family Fun Day at the 2016 Schuylkill County Fair.  The day starts early at 11 AM with registration for the Antique Tractor Pull which starts the day.  The Fair officially opens to the public at 11AM with the ID ME program presented by the Schuylkill County Sheriff's Department.  Protect your children by enrolling them in this very valuable program provided free by the Sherriff Department. Rides also open at 1PM and are presented by Goodtimes Amusements out of Hellertown, PA.  The activities are just beginning for families where they can work together to win the three leg race.
Walk with the Tractor Parade as it makes its way through the fairgrounds with a theme of Family Fun.  Continue the family fun with various interactive exhibits running throughout Saturday.  Bring along your small family pet and have it compete in the Pocket Pet Contest.   Make a catapult and enter it into the contest to see how far a marshmallow will travel through the air.  Sit and rest a little with Big Owl around a campfire on Bear Creek Island and learn about the local Indian inhabitants of the area.   Have the younger family members participate in the Kids Hay Bale Toss.  Relay eggs with family members in an egg relay race.  Participate in the Sack Race.  Roll out the toilet paper in the Toilet Paper Toss.   Scramble for pennies and candy.   Listen to the Schuylkill County Idols.  Then you might want to settle down in a chair to see and hear David Cassidy in Concert with special guest Randy Foulke.
Visual Opportunities: Saturday. August 6, 2016
Antique Tractor Pull
Id Me child Identification Program
3 leg Sac Race
Tractor Parade
Pocket Pet Contest
Wet sponge Relay
Catapult Craft/ Contest
Big Owl Indian Lore
Kids Hay Bale Toss
Water Balloon Toss
Egg and spoon Relay
Sack Race
Toilet Paper Toss
Candy and Penny Scramble
We have good things growing – Leave your hand print and see it grow from year to year.
The Wall – Walk in Art Center would like to know what you want to do before you die
Back on the Back Roads –Destination America Channel filming the uniqueness of the Schuylkill  County Fair
Skook Tales – tell your tales of the Schuylkill County Fair for the county documentary
Schuylkill County Idol
Rusty Foulke (special guest of)
David Cassidy in Concert
Other Notable Visual Opportunities:
Torres Family Circus
Peggy Hentz "Red Creek Wildlife Rehabilitation Center"
Kids Area Activities operated by The Arts Barn Education Center
Schuylkill Talent Showcase – Tamara Wapinsky
Todd Gladfelder, chain saw artist
Porcupine Pat, Naturalist
Farming for A Day
Holly Road Fiber Farms – Spinning angora goat fibers
Farmer Fehr Scavenger Hunt
Ag Museum – Open Hearth Wood Fire Baking with Rebecca Monley
When:                             Saturday, Aug. 1, 2015
Where:                      Schuylkill County Fair Grounds
More Info@:           www.schuylkillfair.com
Schuylkill County Fair runs August 1 – 6 where "We have good things growing."  33 years and growing better with each year.  For more information about the Fair visit the fair web site at www.schuylkillfair.com or follow us on twitter and like us on Facebook.