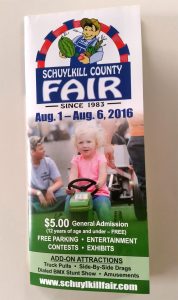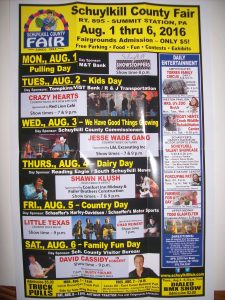 You can preview what's to come at the 2016 Schuylkill County Fair by picking up one of colorful brochures places in business, at events and other establishments around the county. This is the second year the Fair has done such an advertisement in color. The color brochure was so well received last year that the fair decided to go with the same type of layout. So new to the 2016 Schuylkill County Fair in addition to all the new activities included in the brochure is the brochure content and layout itself. The brochure is a little different from last year in that there is less hour by hour detail in the daily schedule. Instead the brochure focused on the value added programs, activities and entertainment that fair goers would enjoy when visiting the fair. The wealth of information, pertinent to the fair goer, inside the brochure content was compiled by Kim Morgan, public relations and marketing director for the fair. The layout of the brochure information was a collaborative effort done by Kim Morgan with the skillful hands and eyes gained through many years in the publishing business of Bill Knecht owner of South Schuylkill Printing and Publishing. Bill lent his expertise in advertising to shape the brochure into the fine publication that it is.
The 11 by 17 tri-fold brochure is packed full of Fair information. It gives dates, times and directions to where events are being held on the grounds. The brochure folds out into a poster of the major entertainment going on the stages found on the grounds as well as on the track. Sponsors of the 2016 Schuylkill County Fair are proudly displayed within. Highlighted within the brochure are the Truck Pulls week long entertainment, nightly entertainment both on the indoor stage and main stage for each day. Contact information for the Fair as well as direction to the fairgrounds are found on the brochure. Even next Year's Schuylkill County Fair dates are included so you can save the dates for the 2017 Schuylkill County Fair.
The Fair Board of Director are excited about how well received the brochures are being taken by the public and hope that the brochure is helpful to all. The board would like to remind the public that the Schuylkill County Fair runs August 1 – 6 where "We have good things growing." 33 years and growing better with each year. For more information about the Fair visit the fair web site at www.schuylkillfair.com or follow us on twitter and like us on Facebook.