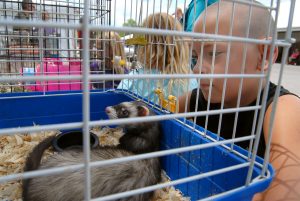 What are Pocket Pet's you say?  They are domesticated small pets kept in cages in the home.  These include rodents, reptiles, amphibians, hermit crabs, ferrets, chinchillas, birds, gerbils, hamsters and more.  Pocket Pets will be featured as a contest for Saturday August 6 at 2PM during the Schuylkill County Fair which runs, August 1 – 6, 2016.  Young and young at heart county residents are encouraged to bring their pocket pet and participate in this fun contest.  Interested individuals are encouraged to bring their animal in their own cage along with food and water for the animal to the Ag Arena on the fairgrounds arriving around 1PM.  Judging will start at 2 PM.  Prizes will be awarded for the biggest, fuzziest, funniest, longest tail, most spots, most unusual fur, and prettiest, smallest, and most beautiful shell.
Pocket pets must be owned by exhibitor by July 1st.  Pocket pets need not be pure bred.  They come from a shelter, a breeder, a pet store, a friend's accidental litter – any domestic source.  They may not be wild-caught.  If you plan to get a pocket Pet to show in this fun contest please consider these sources.  Safe a life! Many animal shelters have mice, rats, gerbils and hamsters up for adoption every day.  Help a neighbor!  Lots of people get a pocket pet for their children.  Then the kids lose interest and the pet needs to find a new home.  You can find small animals looking for homes everyday on "Craig's List" or through your community.  Tell the next 10 people you meet that you are looking for a pocket pen and ask them to tell the next 10 people they meet.  You'll have a pet in no time.  Buy from a breeder.  Breeder-raised animals are far more likely to be well socialized, not pregnant, and hand-tamed when you buy them.    Many breed organizations have breed directories and can be found on the internet.
Information on this Pocket Pet contest or other contest at the Schuylkill County Fair visit the fairs website at www.schuylkillfair.com/exhibits/.   In this PDF file under Department 22 you will find details about the contest.
Schuylkill County Fair operates August 1 – 6 where "We have good things growing."  33 years and growing better with each year.  For more information about the Fair visit the fair web site at www.schuylkillfair.com or follow us on twitter and like us on Facebook.