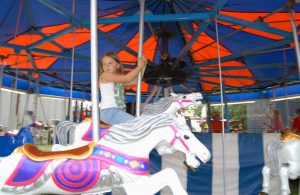 When the Schuylkill County Fair opens on Monday, August 1 and runs through August 6, people will notice the newer amusement ride company.  Goodtime Amusements, LLC of Hellertown, PA will be returning for its third successful year as the midway amusement ride company.  Goodtime Amusements was established in 1988. They are a family run business, which provides amusement services to various non-profit organizations. Operating solely in the eastern portion of Pennsylvania, Goodtime provides their sponsors with up to 20 rides along with food and game concessions.  Rides from the thrill rides like the zipper or starship 3000, to the family rides like the rocking out and classic tilt-a-whirl there is something for everyone. The little tikes will not be disappointed as we have all the great kiddie rides for them.
What would a fair or carnival be without great food and games. Midway treats are a must, from delicious pizza, ice cream, funnel cakes, cotton candy, snow cones, nachos, corn dogs, caramel and candy apples, popcorn and others. Classic midway games such as basketball, balloon bust, water game, posters and many other favorites.
Goodtime offers their patrons modern, well-maintained equipment staffed by courteous, well-groomed uniformed employees. They take pride in bringing the meaning of good times to your event.
A new kiddie ride Zamperla Mini Jet has been purchased for the 2014 fair season.  Goodtime is presently involved with the rehab of the Bumble Bee and Merry-Go round Rides and they will be completed for the beginning of the season.  Hampton, Paratrooper, Bear Affair, Spinner, Train, Dragon Wagon, Teacups Bumble Bees, Yo Yo Swings, Starship, Sizzler, Loop O Plane, Tilt A Whirl, Castle Mania, Super Slide, Boats, and Carousel are some of the rides provided by Goodtime Amusement out of Hellertown, PA to be found at this year's Schuylkill County Fair.
Rides at the Schuylkill County Fair have always been broken down into three age groups.  Adult, youth, and kiddy rides are the groupings.  A minimum of 5 rides per age group will be found on the grassy meadow at the fairgrounds.  Goodtime amusements have promised more rides as the space can accommodate more of their equipment.
Rides aren't the only fun on the midway.  Goodtime Amusements feature games where the game operator is having just as much fun as the customer.  Fifteen game and concession trailers will be available for all to have a good time.   Goodtime operators aren't in it to win; instead they want fairgoers to have fun.  Ride bands to ride the rides will be available at a $15.00 charge to ride all day Monday, Wednesday, Thursday, and Friday.  Tuesday and Saturday ride bands will be $20.00 for all day with $10.00 for a 1-5PM ride special.
The Schuylkill County Fair runs August 1 – 6 where "We have good things growing."  33 years and growing better with each year.  For more information about the Fair visit the fair web site at www.schuylkillfair.com or follow us on twitter and like us on Facebook.