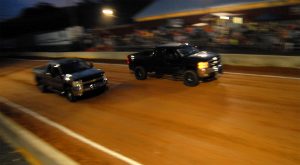 Due to last nights lightning we were unable to conduct the side by side drag races and had to cut the pulls short. We had over 40 trucks registered for the drag racing event and almost 1000 fans waiting out the storm.
Unfortunately due to the schedule of the sled, we will not be able to make up the one class of truck pulls that had to run.
WE WILL run the side by side drag races tomorrow night after the celebrity tractor pull event. We expect this event to start at approximately 9PM. Competitors who wish to drag race can register in the pits starting at 7PM and if you were already registered last night and did not receive a refund you will just need to check in.
Here's the best part——-there will be NO ADMISSION FEE for either of these events on the track tomorrow night!
Please help spread the word!