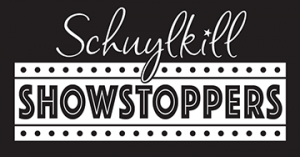 The Schuylkill ShowStoppers will be the headline act on the M&T Bank Stage on Monday, July 27 at 8 PM. What a great way to start off the Fair-with Schuylkill County's own talent on the stage! Schuylkill ShowStoppers will be doing their final performance of their season on the M&T Bank Stage right here at the Fair.
Schuylkill ShowStoppers is a talented group of Schuylkill County's own high school students. The group is under the creative team direction of Lois Ann Maley, Emily Ehlinger and Sally Bair. The initial cast of the Schuylkill Showstoppers includes Kylee Clark, Sieara Gilbert, Skylar Gunning, Jared Kehler, Andi Sanders, Chris Swantek, Rachel Lenker, Anna Adams, Sophie Murray, Gabriella Quinn, and Brooke Unger. This newly created group has been designed to help talented and interested county high school and college students hone their interest in live show performance skills. Each student selected to be a ShowStopper makes the commitment to work to improve their singing, dancing, acting, playing, leadership and creativity skills both personally and as a member of the ensemble with live performances giving them the opportunity to share their growth. Further, the group has a goal of trying to make their performances accessible to all residents of the County at a free or reasonable cost. To that end, they will be presenting "Musical Monday Nights in the Skook" during the month of July 2015. They will close their first season at the Schuylkill County Fair on Monday, July 27, 2015, following the crowning of the Fair Queen at approximately 8 PM. The show repertoire includes: I Want to Be a Showstopper, Someone Like You, Love Is An Open Door, Beat Box, My Own Little Corner of the Sky, I am Damaged, Agony, Mein Herr, Uptown Funk, Eleven, Grand Piano, My God is Real, Tell Him, Rather Be, If My Friends could See Me Now and Thank You for the Music.
Come hear this talented group of Schuylkill County performers gathered especially for you at their final performance on Monday, July 27 at 8 PM on the M&T Bank Stage. For information on this performance and other information related to the Fair, visit the Fair web site at www.schuylkillfair.com or follow us of Facebook and Twitter.