New to this year's fair is the "Safe Place" program which aims to aid in situations where parties become separated while at the fairgrounds. Being "lost" is a frightening and stressful situation for everyone and it can be especially distressful to children or those with special needs.
Posted at the entrances to the fairgrounds you will find banners which explain the program. Similar to the popular "Code Adam" used in many retail locations and other establishments, we will be using "Code Nemo" to alert our staff and guests that someone has reported either a child or a person with special needs as missing.
Hung in 15 different locations throughout the grounds, large banners display the program logo. Inspired by the popular Disney/Pixar film Finding Nemo, this logo includes a cartoon clownfish which bears resemblance to the movie's main character who is lost and separated from his father.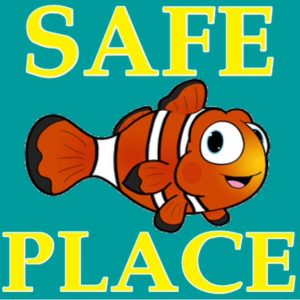 At these locations, a security officer or an event volunteer will be present to assist patrons with locating the rest of their party. As you enter the fair, you will be offered stickers which are replicas of the signs. The stickers serve as an easy reference to remind patrons where to go if they find themselves lost or in need of assistance.
In the event of a "Code Nemo," all exits will be closed and all patrons attempting to exit the fairgrounds will be stopped to ensure that "Nemo" isn't with their party.
The key to success in the event of any emergency is preparation. As you are planning your visit to the fair, be sure to include a conversation about the "Safe Place" program and help us to help you! Other safety ideas to help keep your group connected and aid in a speedy reunion include:
keeping the ratio of children to adults at or below 6:1
setting meeting times and places and stressing the importance of sticking to your schedule
having cell phones charged in the event that you need to contact members of the group to locate them
giving children or those with special needs an "info card" which would include: their name, the name of the group or family they are with, the name of the guardian or chaperone to contact in the event of an emergency, a phone number for an on site guardian or chaperone, emergency medical information, and instructing them to provide the card to the person who is assisting them
having a current photo of the group members so clothing, hairstyle, etc. can be easily referenced for an accurate description
Come join us between July 27th and August 1st as we "Harvest the Fun" at the 32nd annual Schuylkill County Fair. For information about events, contests, and entertainment at the Fair, visit our website at www.schuylkillfair.com. You can also like us on Facebook or follow us on Twitter.