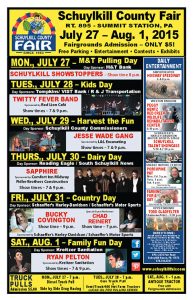 You can preview what's to come at the Schuylkill County Fair by picking up one of colorful brochures places in business and establishments around the county. This is the first time the Fair has done such an advertisement in color. So new to the 2015 Schuylkill County Fair in addition to all the new activities included in the brochure is the brochure itself. The wealth of information inside the brochure and layout of the content was compiled and arranged by Kim Morgan, public relations for the fair. The brochure was published under the direction of Bill Knecht of South Schuylkill Printing and Publishing. The Fair board of director are excited about how well received the brochures are being taken by the public.
The 11 by 17 tri-fold brochure is packed full of Fair information. It gives dates, times and directions to where events are being held on the grounds. The brochure folds out into a poster of the major entertainment going on the stages found on the grounds as well as on the track. Sponsors of the 2015 Schuylkill County Fair are proudly displayed within. Highlighted with in the brochure are the Truck Pulls and Entertainment Each Day. Contact information for the Fair as well as direction to the fairgrounds is on the brochure.
For more detailed information on the Fair that might not be included in the brochure can be found at the Fair's web site at www.schuylkillfair.com or by following us on Facebook and Twitter.