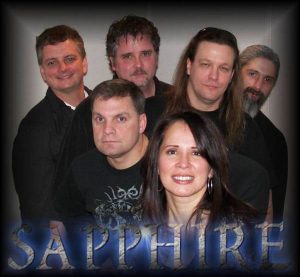 Attending a performance by Sapphire is like going back in time to the 1980′s. The band often feels the same way and you will too. Thursday evening July 30 you can see Sapphire perform live on the M&T Stage for two performances at 7 and 9PM. They are sponsored by comfort Inn Midway and Fiddler Brothers Construction. This is of course during the Schuylkill County Fair which runs July 27 through August 1.
"We play the same songs we've always played, since we were in high school, only now they're classics," says front lady vocalist Michelle Scribbick of Minersville. "Sometimes that just kills us!"
This popular local band is a reunion story, having come together in 1981, disbanded in 1986, then reunited in 2001.
"We find it cool that people keep telling us that not only have we played their prom or wedding, but now we are playing for their kid's proms or weddings," Scribbick said. "Which is freaky and cool. Yeah, freaky cool!"
The female front for this now-Classic rock band is smoking hot onstage. She exudes so much energy you can't help but feel it. She's not the only one, though. All six members are on fire up there.
The band members and their main positions are: Michelle-vocals, Eric-vocals/guitar, Stevo-guitar, John-bass/vocals, Mike "Squeak" Melusky-drums and Paul-keyboards
Michelle, Steve and Paul (Zelinsky) are members of the original band which formed in the 1980′s, before everyone finished college and moved apart.
This is a professionally-produced, strictly-covers band that really has their act together. Well, with all those years, I suppose they should.
"With this much time together and three of the original six members, it's smooth," said Scribbick. "We get along really well. They're my best friends."
Favorites on the band's play list include a good mix of 70′s and 80′s fare. Songs range from selections by Boston, Fleetwood Mac (and also Stevie Nicks), Foreigner, Journey, and REO Speedwagon, to Bob Seger, 38 Special, and Pink Floyd. Some Cyndi Lauper, Pat Benatar, or Lita Ford might be in there, or even Billy Idol, Grand Funk Railroad, Eddie Money, STYX, and AC/DC.
To sum it up, with three vocalists and all that music, the band can cover just about anyone, but one of the hallmarks of their shows so far is the female lead with all-male band. Michelle's got a lovely voice, even on the telephone (might be helpful as she works for a major business school in the area and does most of the talking for this band offstage) and she knows how to use it.
She also knows how to let the rest of the band take the spotlight when they deserve it. Each member of the band is a musician in their own right, but together they meld like the old friends they are for a "true to original" sound, as their website says.
Another thing Sapphire fans have come to expect is the light show. While it does have to be tailored to the locale, the band does the lights in true 70's/80′s fashion. Let's not forget the soundman, Jeff Jefferson. He says, "Michelle and the guys crack me up all the time, I love that job!"
Come see Sapphire perform on the M&T Stage July 30 during the Schuylkill County Fair.