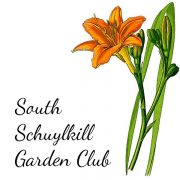 The South Schuylkill Garden Club will be finishing another active year with two different activities slated for November and December.  November will bring a hands on activity of making wreaths on the third Tuesday of the month which is their monthly meeting night in the Jerusalem Evangelical Lutheran Church at 253 Dock Street, Schuylkill Haven.  December will culminate the year with a Christmas Party celebrating not only the joyous season but also 75 years existence of the Club.
On November at 6:30 the SSGC will be treated to an evening of Holiday Wreath making workshop.  Club members will learn about the huge variety of evergreens that Schuylkill County produces for the retail markets.  Then club members will use some of those evergreens to create a personal wreath to take home.  Greens, wire, ribbon and natural materials will be provided.  Club members may bring their own special decorations to adorn their Holiday Wreaths if they wish to.  Club members are advised to bring gloves and pruners to facilitate wreath making. Hot glue gun might also facilitate decorating the wreaths.  The workshop will be conducted by florists from Forget-Me-Not Florist of Pioneer Evergreens Farms of Orwigsburg.
December's club meeting will be held at 5:30 in the Oak Hill Inn on Route 61, Orwigsburg on Tuesday December EIGHTH.  The Christmas party will start with a meet and greet at 5:30 followed by dinner at 6PM with a round of fun and games to finish the evening.  The club will be celebrating the holiday season and 75 growing season of service to the community.  A good time will be had by all before the club goes into dormancy till March of 2016 when it reorganizes for the start of the new growing season.
For more information about the SSGC visit the club web site at www.southschuylkillgardenclub.com   or send friendly inquiries to Karen Winkleman, President at kwinkleman@comcast.net or 570.345.6616