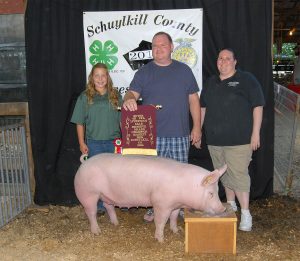 The 31st annual 4-H and FFA livestock sale will be held on Thursday, July 30 at 6 PM. Quality livestock at reasonable prices will be auctioned by Robert Derfler, Auctioneer of Pine Grove. Robert Derfler is the master of the sale ring! He has done this for many years and always adds excitement to the auction. The sale starts promptly at 6 PM in the Livestock Show Ring of the Schuylkill County Fair. Buyers may register to bid on an animal starting at 4PM and enjoy a complementary light meal until the auction starts.
Livestock for sale are owned and raised by 4-H/FFA members, who have put a lot of time and hard work into raising and training the animals for this event. The animals selected by the 4-H/FFA members are chosen for their superior genetics and raised on special diets to present an optimum quality animal for the consumer.
Previews of the livestock for sale can be found at www.auctionzip.com/PA-Auctioneers/1832.html. Buyers will also receive a color photo of the animal with the exhibitor when purchasing an animal at the auction.
Proceeds for the sale of these animals go back to the 4-H/FFA members to help with cost of purchasing and feeding the animal. For further information on the purchase of one of these quality animals see the attached brochure on the Schuylkill County Fair website at www.schuylkillfair.com . The 4-H and FFA members invite you to purchase a quality animal for your use at the Schuylkill County Fair 4-H/FFA Livestock Sale.  Prospective buyers may start to register at 4 PM.